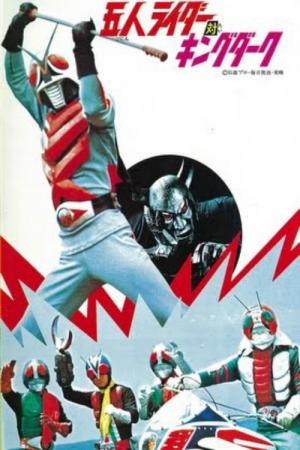 21 Best Five Riders Vs King Dark ...
If you liked this film , you will for sure love these too! In this selection we highlight some of the best films that share a very similar mood to '', and are worth checking out.
1.
Kamen Rider × Super Sentai × Space Sheriff: Super Hero Taisen Z (2013)
1h 32m Action Adventure Science Fiction
A new evil organization known as Space Shocker, which are led by the magic-using Space Ikadevil and Space Spider Man, threatens the Earth by causing an unknown phenomenon. The Space Sheriffs Gavan type-G and Sharivan are sent to execute all magic-users on Earth in response to the threat and begins to attack Kamen Riders Wizard and Beast. The Space Crime Syndicate Madou, who were once defeated by the original Sharivan return, to cause even more havoc in the world. During this, Yoko finds a mysterious little robot called Psycholon, which Space Shocker and the Madou are after for unknown reasons.
2.
Kamen Rider - The First (2005)
1h 30m Action Adventure Science Fiction Thriller
Takeshi Hongo is a man of extraordinary intellect, but his promising future is about to be maliciously snuffed out by and evil secret society known as Shocker. Reinvented against his will and transformed into a powerful experimental cyborg, Hongo will forever be known as Kamen Rider The First.
3.
Kamen Rider × Kamen Rider W & Decade: Movie War 2010 (2009)
1h 30m Action Adventure Science Fiction
Movie War 2010 is split into three parts. The Kamen Rider Decade portion of the film, written by Shoji Yonemura, is titled Kamen Rider Decade: The Last Story. It follows the series cliffhanger ending at the climax of the Rider War. The film is billed as the "True Ending" and was originally subtitled Decade vs. All Riders. The Kamen Rider W portion of the film, written by Riku Sanjo, is titled Kamen Rider W: Begins Night, taking place between episodes 14 and 15 of Kamen Rider W, investigates the origins of Kamen Rider Double as briefly shown in the cold opening of the series' first episode, referred to in the series as the "Begins Night". The film is described as the "True Beginning" and was originally subtitled Episode Zero. In the final portion of the film entitled Movie War 2010, a convergence of the two films that brings the casts and characters of Decade and W to finish the fight with Super Shocker together.
30m Action & Adventure Sci-Fi & Fantasy Kids
A Japanese anthology series centered around a man who transforms into a bug-themed superhero.
5.
Captain America II: Death Too Soon (1979)
1h 28m Action Drama Science Fiction TV Movie
A government agent is looking for a missing scientist, believing that a revolutionary leader known as Miguel has him, and that he is using him to get his formula for something that can accelerate the aging process. He sends Steve Rogers aka Captain America to find him and rescue the scientist, his only lead is a chemical that the scientist needs for his formula. As he gets closer to the truth Miguel threatens to spray the chemical on a major city unless his demands are met. But the President does not negotiate with terrorists, can Captain America save the day!?
6.
Evil Brain from Outer Space (1966)
7.
Captain America (1979)
1h 37m Action Adventure Science Fiction TV Movie
An artist, Steve Rogers, is nearly murdered by spies, looking for his late father's national secrets. He is saved during surgery when a secret formula is injected into him; this serum not only heals him but also gives him fantastic strength and lightning reflexes. To help him solve the mystery behind his father's murder and bring those guilty to justice, a government agency equips him with a special motorcycle loaded with gadgets and an indestructible shield. Now armed, he battles against the nation's enemies as the Sentinel of Liberty, Captain America.
2h 23m Science Fiction Action Adventure
When an unexpected enemy emerges and threatens global safety and security, Nick Fury, director of the international peacekeeping agency known as S.H.I.E.L.D., finds himself in need of a team to pull the world back from the brink of disaster. Spanning the globe, a daring recruitment effort begins!
9.
The Amazing Spider-Man (2012)
2h 16m Action Adventure Fantasy
Peter Parker is an outcast high schooler abandoned by his parents as a boy, leaving him to be raised by his Uncle Ben and Aunt May. Like most teenagers, Peter is trying to figure out who he is and how he got to be the person he is today. As Peter discovers a mysterious briefcase that belonged to his father, he begins a quest to understand his parents' disappearance – leading him directly to Oscorp and the lab of Dr. Curt Connors, his father's former partner. As Spider-Man is set on a collision course with Connors' alter ego, The Lizard, Peter will make life-altering choices to use his powers and shape his destiny to become a hero.
10.
Shin Kamen Rider: Prologue (1992)
1h 28m Action Adventure Science Fiction
Doctors Kazamatsuri and Onizuka are geneticists researching cures on diseases such as AIDS and cancer by performing experiments to strengthen the human body. The test subject is Shin Kazamatsuri, motorcycle racer son of Doctor Kazamatsuri. Unknown to them, their operation is funded by a syndicate group, who plan to use this research to have the bodies of men strengthened for their own gain—they have already been experimenting in the field of cyborg soldiers, to a less-than-successful attempt. However, they did not count on Onizuka's own secret ambitions; the mad Onizuka wanted to create a new species, by fusing a grasshopper's DNA with the test subject's, in order to start a new civilization and be their god. He has tested on himself, but seems to be having greater success with Shin.
11.
The Amazing Spider-Man 2 (2014)
2h 22m Action Adventure Fantasy
For Peter Parker, life is busy. Between taking out the bad guys as Spider-Man and spending time with the person he loves, Gwen Stacy, high school graduation cannot come quickly enough. Peter has not forgotten about the promise he made to Gwen's father to protect her by staying away, but that is a promise he cannot keep. Things will change for Peter when a new villain, Electro, emerges, an old friend, Harry Osborn, returns, and Peter uncovers new clues about his past.
12.
Message from Space (1978)
30m Sci-Fi & Fantasy
The 15th solar system is invaded by the Stressos. Two men, Ryû and Ayato, and a man-ape, Baru, organize the resistance. They are helped by Eolia, a mysterious woman traveling on a three masted space ship.
2h 6m Action Science Fiction Adventure
After being held captive in an Afghan cave, billionaire engineer Tony Stark creates a unique weaponized suit of armor to fight evil.
14.
Moontrap: Target Earth (2017)
1h 21m Action Science Fiction Adventure
A long forgotten ancient spacecraft discovered on Earth. Investigations carried out by Scout transport her to the moon whereupon she meets the impressive machines preserving the wisdom of that long lost civilization.
15.
The Incredible Hulk (2008)
1h 54m Science Fiction Action Adventure
Scientist Bruce Banner scours the planet for an antidote to the unbridled force of rage within him: the Hulk. But when the military masterminds who dream of exploiting his powers force him back to civilization, he finds himself coming face to face with a new, deadly foe.
22m Documentary
While Senator Kelly addresses a senate committee about the supposed mutant menace, we learn about the making of the movie, X-Men.
2h 4m Adventure Action Science Fiction
With the world now aware of his dual life as the armored superhero Iron Man, billionaire inventor Tony Stark faces pressure from the government, the press and the public to share his technology with the military. Unwilling to let go of his invention, Stark, with Pepper Potts and James 'Rhodey' Rhodes at his side, must forge new alliances – and confront powerful enemies.
18.
The Incredible Paris Incident (1967)
1h 25m Action Adventure Comedy Science Fiction
Argoman has a silly costume and is a sexist pig. He uses his special telekinetic powers to get the ladies to sleep with him. The catch is, after a night with a gal he loses his special powers for 6 hours! In this comedic super/spy thriller, Argoman goes head to head against the evil Jenabelle: Queen of the World.
2h 7m Action Adventure Fantasy
Peter Parker is going through a major identity crisis. Burned out from being Spider-Man, he decides to shelve his superhero alter ego, which leaves the city suffering in the wake of carnage left by the evil Doc Ock. In the meantime, Parker still can't act on his feelings for Mary Jane Watson, a girl he's loved since childhood.
20.
Superargo and the Faceless Giants (1968)
1h 20m Science Fiction Adventure
A masked wrestler/superhero goes up against a madman and his army of robots.
explore
Check out more list from our community